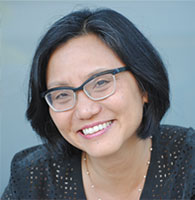 Hello! Below are some questions I am often asked by readers.
If you cannot find the answer to your question here, there is a lot of information elsewhere on this site about me and my books. Please take some time to browse through the other pages, especially the Biography page, the sections on Reading and Writing, and the pages devoted to each book title. 
Happy browsing! 
Where can I write to you? How can I get your autograph? Will you sign a copy of my book?
You can write to me at the following address:
Linda Sue Park
c/o HarperCollins Children's Books
195 Broadway
New York, NY 10007
If you would like my autograph, a signed bookplate, or a reply to your letter, write to me with your request and enclose an SASE, a SELF-ADDRESSED STAMPED ENVELOPE!!! That's an envelope that you address to yourself, put a stamp on, and put into the envelope that you mail to me. This is important! If you don't enclose a self-addressed stamped envelope, you will NOT receive a reply!
Please note: I cannot reply to e-mails, tweets, texts, or any other electronic correspondence from students, but I DO reply to letters sent through the mail. It may take as long as several months for me to receive and reply to snail mail. I appreciate your patience.
Where do you get your ideas?
From the idea store, of course!
Just kidding. I get ideas from reading books and articles, listening to people talk, watching TV and movies; from things I see and hear; from sitting around daydreaming. Ideas are everywhere: The important thing is to find the ones that interest you.
Will there be a sequel to A Single Shard? or Seesaw Girl? or The Kite Fighters?
Or When My Name Was Keoko?
As of now, I am not planning to write a sequel to any of my books. But you never know—that could change someday. I do like when people ask me this question, though, because I think it means they have gotten really interested in the characters and want to know what happens to them next. I hope readers will continue the stories in their own minds. Thinking about the story after you finish the book—that's an important part of reading.
Were you born in Korea? Do you speak Korean? Have you ever been to Korea?
I was born in the U.S. and grew up speaking only English. Now I speak a little tiny bit of Korean. I can read the alphabet, and write my name in Korean. Someday I would like to learn to speak it better.
I have been to Korea twice—once when I was 12 years old, and again in November of 2002. Both were fascinating trips for me, and I hope to visit again—many times!


Do you have any tips for young people who want to become writers?
READ! If you want to be a writer, you have to read A LOT. Reading is training for writers the same way that working out is training for athletes!
That's the most important tip, READ, READ, READ, READ, READ, READ!
And here are some ideas for writing:
Happy reading and writing to all!